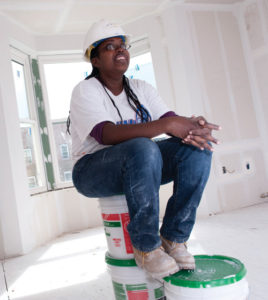 Looking for a fun and rewarding activity for yourself or a small group? Come volunteer with us! All skill levels are welcome. This could be a great opportunity to learn something new, volunteer, alongside some of the best people in town, and make a difference in our community. Help build it!
Construction

Habitat ReStore

Administrative offices

Special events

Boards and committees
There are a lot of ways you can serve your community with Kalamazoo Valley Habitat for Humanity! If you are interested in any of these positions or if you have another idea of a way to help, contact Tim Smolenski, tsmolenski@habitatkalamazoo.org or by calling (269) 344-2443, ext. 206.
Here are some areas in which help is needed:
Construction Volunteers. Our teams build and repair homes on Tuesday, Wednesday, Thursday, and Saturday. Click here to learn how you can help.
Habitat ReStore Volunteers. Volunteers keep our Habitat ReStore humming. Volunteers can help during every hour the store is open. Click here to learn more.
Photographers. We need good photographers to take high-resolution photos at Habitat events, construction sites, and the Habitat ReStore. The photos are used in publications and social media. Time commitment: variable.
Data Entry and Clerical Support. Computer-savvy volunteers are needed to help maintain our database and perform a variety of clerical tasks. Do you love Access? Excel? InDesign? Word? Publisher? Like to copy, file, label and stuff envelopes? Let us hear from you! Time commitment: 2 – 4 hours a week, Monday – Friday or as needed.
Receptionists. Answer phones and greet customers in our office and at the Habitat ReStore. Time commitment: 2 – 4 hours a week, Monday – Friday.
Habitat Gardeners. Help tend our garden. This plot, behind Prince of Peace Lutheran Church, accepts donations of perennials, shrubs, and trees that are used to landscape Habitat homes. We need volunteers to keep the beds organized, mow the grass between the raised beds, and tend the plants. Time commitment: variable and seasonal.
Yard Maintenance: Keep our office and Habitat ReStore grounds looking professional with regular lawn mowing, raking, weeding, etc., as required by the season. Time commitment: 2 – 4 hours a week, Monday – Friday. Seasonal.
Special Events Team. Help prepare and present special events with Habitat. This includes receptions, home dedications, fundraisers, and outreach events. Time commitment: variable.
Interns. If you would like to investigate opportunities for internships in our organization, please contact Tim Smolenski at 269-344-2443, ext. 206 – tsmolenski@habitatkalamazoo.org