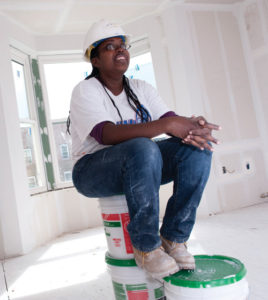 VOLUNTEERING WITH HABITAT
As we celebrate our 40th anniversary this year, we are rolling out new volunteering and community engagement initiatives. To accommodate this transition, we are currently not scheduling new individual volunteers or large groups. Current volunteers can still sign up for shifts online.
However, save the date for our special events in 2023 — volunteers and sponsors needed!
Women Build: May 16, 17, 18 & 20
Pride Build: July 22
Veterans Build: November 11 (Veterans Day)
40th Anniversary Celebration: TBD (likely September)
If you are an organization or company that is interested learning more about these upcoming events, our Sponsor-A-Day volunteer program, or other engagement opportunities with Habitat, please contact Margy Belchak, Director of Development, at (269) 464-4383 or mbelchak@habitatkalamazoo.org.
Looking for a fun and rewarding activity for yourself or a small group? Come volunteer with us! This could be a great opportunity to learn something new, volunteer, alongside some of the best people in town, and make a difference in our community.
Construction

Habitat ReStore

Special Events

Boards & Committees
Here are some areas in which help is needed.
Construction Volunteers: Our teams build and repair homes on Tuesday, Wednesday, and Thursday from 8:30 am until 3:30 pm. We are actively seeking folks who can commit to volunteering on our new construction job sites one, two, or three days a week to join our crew of superstar "Regulars." 
Habitat ReStore Volunteers: Volunteers keep our Habitat ReStore humming. Volunteers can help on Tuesdays, Thursdays, and Saturdays. We have flexible shifts available on our online calendar.
Photographers, Writers, & Graphic Designers: We need good photographers to take high-resolution photos at Habitat events, construction sites, and the Habitat ReStore. The photos are used in publications and social media. We also have opportunities for writers and graphic designers to help with our communications.
Special Events: Help prepare and present special events with Habitat. This includes our anniversary celebration, receptions, home dedications, fundraisers, and outreach events.
Boards & Committees: Interested in getting more involved in creating affordable housing in Kalamazoo? We often need dedicated volunteers to serve on our Board of Directors and Board Committees. Attendance is required at once- or twice-monthly meetings, depending on the role.
Please contact Margy Belchak, Director of Development, 269-344-2443, ext. 215 or mbelchak@habitatkalamazoo.org.